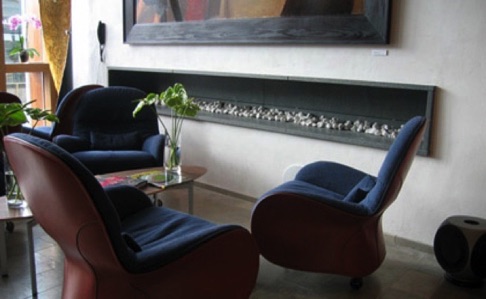 First Hotel Avalon in Gothenburg is a member of Design Hotels, an international association branding itself through design, and already in the planning stages in 2006 Audiotechture became included in the creative project group.
The restaurant's audio backdrop was inspired by the sounds you can hear when you sit in a lilac arbor. Available in two versions, both designed with a nature sound foundation, one has a pure natural sound design, the other is a more ambient sounding audio backdrop with sounds of acoustic guitar, flute and piano mixed in.
In the upper lobby, the fireplace – gas, and virtually silent – was given a sonic coat of pops and crackles to make it sound like a real log fire.
The third installation is situated in one of the hotel's corridors and gives the hotel guests the sensation of passing through a crystal curtain – only audible of course – activated by a sensor in the corridor.